By Kunle Adebajo
The last time Nigeria released a crime statistics report was June 2018 and experts say this is costly for a country wrestling with insecurity across various fronts.
The federal agency in charge of data generation, analysis and publication, the National Bureau of Statistics (NBS), had first released crime-related data in 2014. But it only covered events in Akwa Ibom, one of many states.
In June 2017, it shared the first national report, relating to offences recorded in the previous year. The report stated the number of offences committed, categorising them according to crimes against persons, against property, and against lawful authority, for all 36 states as well as the Federal Capital Territory (FCT). NBS explained that the data was provided by the Nigeria Police and then validated by it.
The following year, the agency released an even more detailed crime statistics report. It breaks down the offences against persons into over 12 crimes, offences against property into over 11, and offences against lawful authority into over seven crimes. The report also gives the number of police posts, stations, area commands, and police officers in each state.
Together, both reports help to understand the pattern of crime across the country and point to the flashpoints for specific offences. But the NBS has not released a more updated version for the last four years.
Sunday Ichedi, Head of the bureau's Communication and Public Relations Department, says they are not to blame since they could not release statistics without cooperation from the police.
"When they don't give us, we cannot force them to produce," he told HumAngle.
Ichedi, who described the problem as systemic, confirmed that the NBS has made repeated requests but does not always get answers.
"Even though we are trying here, statistics in the line ministries are not all that developed. And there's a need for good statisticians handling sector statistics. Talking about crime statistics, educational statistics, health statistics and co. But if you go there, you find administrative officers handling data, which should not be."
"We cannot manufacture. We have to depend on them to give us. We are trying our best to develop capacity but it is left for them to give us the data," he added. "If the Nigerian police are not doing their work, there is no way we can force them. We are just like preachers; we will always try to preach to them so that they can repent."
When HumAngle asked if any incentives were provided during the two consecutive years when the crime statistics were published, the NBS spokesperson replied that he could not comment on the matter.
Statistics related to crime have over time featured in a few other NBS publications, such as the Drug Related Crime Statistics (2010-2014) report, Drug Abuse and Enforcement (2012-2016) report, a 2016 report compiled by the prisons authorities, and the 2017 and 2020 Social Statistics reports, which mostly include figures from the National Agency for the Prohibition of Trafficking in Persons (NAPTIP), National Drug Law Enforcement Agency (NDLEA), and Nigeria Security and Civil Defence Corps (NSCDC). The latter report has 2016-17 figures on missing persons, stolen vehicles, and rape cases from the police too.
Meanwhile, the police website does not contain any section for resources, reports, or documents. The security tips page is blank and is said to be undergoing updates.
The NBS has noted that crime statistics include allegations of offences committed made to the police, court trials, convictions, acquittals, prison population, and so on. The agency explains that, for the Nigeria Police, which is one of the most important data collectors, the process starts from the station, which then passes data collated to the Divisional Headquarters, then the Command Headquarters, then the Force Headquarters.
The force has a Department of Research and Planning that is responsible for "requesting and receiving statistical information on crime, accident, police personnel, traffic violations, human right violation, domestic violence etc, from commands". It is also expected to maintain a "rich and reliable data bank" of vital statistics. According to the NBS, the police produces both annual reports and monthly appreciation of crime reports, mostly for internal use.
John Ogbonaya Amadi, who is the Acting Deputy Inspector-General in charge of the department, however, declined to comment and instead referred us to the police spokesperson, Olumuyiwa Adejobi.
But Adejobi did not respond to enquiries from HumAngle over several days and despite multiple reminders.
The problem with the lack of statistical coordination and transparency has persisted despite government funding. A study of recent federal budgets showed that over ₦947 million was approved for the Ministry of Police Affairs as well as police formations across the country for projects related to research and development. These also included the installation and deployment of a crime database, data generation and the conduct of a national survey in partnership with the NBS, digitisation of ministry records, and the purchase of equipment for research, planning and standardisation.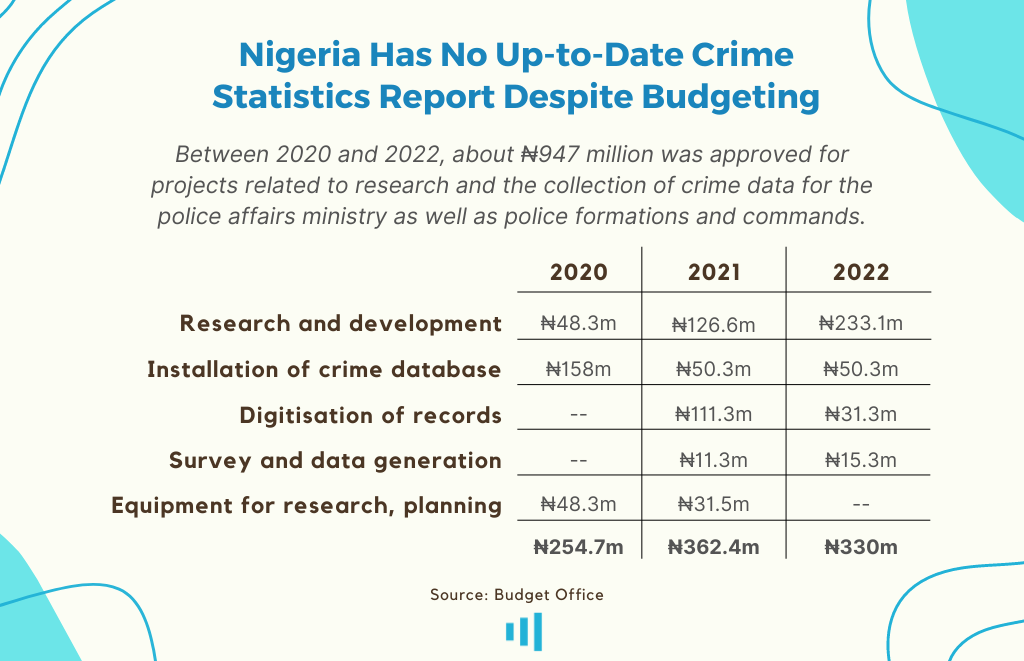 Muazu Mijinyawa, a criminologist and researcher based in Ibadan, stressed that fostering access to crime statistics helps with resolving insecurity. It serves as a reality check since official data is expected to be more reliable compared to information gathered by citizens and other groups.
"When you have accurate or almost accurate statistics, you will know the major crimes that are threats to the nation or state. It helps us understand the distribution of crime," he explained.
It will also let law enforcement agencies know where to concentrate their resources. He urged the police to develop a more functional data reporting system and stop victim shaming so more people can report criminal incidents at its stations.
The lack of access to recent crime statistics shows Nigeria's lack of preparedness for development, observed Damilola Ojetunde, a data analyst at the Organized Crime and Corruption Reporting Project (OCCRP).
"How will you be able to tell the story of Nigeria not having up-to-date crime statistics? And crime is not seasonal. It happens every day."
He noted that there is a Department of Planning, Research, and Statistics in all government institutions, which the NBS works with, and wondered what the relevant police unit has been doing. He said he was sure the institution would blame the problem on a funding shortage.
"They fall back on civilians to give them money to fund investigations. We've seen very well the police pushing vehicles on the road because they do not have money to fuel. It is as bad as that. So, is it the institution of government that does not even have funding for its core operations that will now have funding for surveys or research?" he asked.
"It tells us the attitude of government to growth, development, and security because there is no way you will make progress without data. Most times, in this part of the world, we are reactive because there is no way you can be proactive without data. You need to rely on historical information to plan for future occurrences. Instead, when those things happen, we start looking for ways to mitigate."